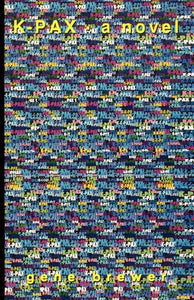 Title: K-Pax: A Novel
Publisher: St Martins Pr, Gordonsville, Virginia, U.S.A.
Publication Date: 1995
Binding: Hardcover
Book Condition: Near Fine
Dust Jacket Condition: Near Fine
Edition: 1st
First Edition First Edition, Near Fine/Near Fine , Cloth. No marks or folds. This amazing novel, published in March of 1995 has become a cult classic for fans of Science Fiction with the recent release of the movie, starring Kevin Spacey and Jeff Bridges. The cover of the book is actually a three-dimensional stereogram. A new patient is brought to a mental institution claiming to be an inhabitant of a planet called K-PAX. Except for certain otherworldly abilities he appears to be perfectly sane. In taped therapy sessions the man, PROT, is asked about life on K-PAX and he paints a consistent and credible portrait of a utopia painfully unlike our world. Yet it is a very possible Utopia if we could only erase from human nature its greed and cruelty. This is a fantastic work of Science Fiction and is surely destined to become a classic.