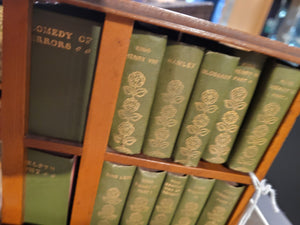 SHAKESPEARE, WILLIAM Complete Works. (c. 1904) [Large revolving bookcase] Glasgow & NY David Bryce and Son (1904) Forty volumes. Dedicated to the actress Ellen Terry, this complete set of Shakespeare was part of a series of literary sets or individual volumes dedicated to her. Of the Ellen Terry series, Louis Bondy wrote that these volumes are "Bryce's greatest achievement as a leading promoter of miniature books," and, in particular, he describes the Shakespeare as "the most prodigious of these sets" (Bondy, p.114). Most of the sets were printed in 1904. Included are all the plays, the sonnets, a biographical sketch, and glossary. Bound in gilt stamped Forest Green Cloth with floral gilt stamped spines and housed in the original 8-compartment revolving wooden bookcase by Bumpus, which can be very difficult to obtain. Minor slight chipping to top edges of the swivel case. (Spielmann 459; American Art Association 182;
Welsh 6264), (21/8 by 1 1/2: 55x38mm.). The set contains...
Comedies
All's Well That Ends Well
As You Like It
The Comedy of Errors
Love's Labour's Lost
Measure for Measure‡
The Merchant of Venice
The Merry Wives of Windsor
A Midsummer Night's Dream
Much Ado About Nothing
Pericles Prince of Tyre
Twelfth Night, or What You Will
The Taming of the Shrew
The Winter's Tale
The Two Gentlemen of Verone or The Two Noble Kinomen
Histories
King John
Henry IV, part 1
Henry IV, part 2
Henry V
Henry VI, part 1
Henry VI, part 2
Henry Vi part 3
Richard
Henry Vill
Tragedies
Romeo and Juliet
Coriolanus
Titus Andronicus
Timon of Athenst
Julius Caesar
Macbeth
Hamlet
Troilus and Cressidat
King Lear
Othello
Antony and Cleopatra
Cymbeline
The Tempest
Poems
Sonnets and Poems
Venus and Adonis
Other
Biography and Glossary
VG
Sold by a collector in a public auction at Bonhams, 9th November 2022.
#No.3